If you are interested in the traditional but not too much formal, Kurochaya is one of the best place I recommend. It takes 5 minutes by taxi from JR Musashi-Itsukaichi station. There is the big traditional Japanese house along the Akikawa (river). Surprisingly, this place still locates in Tokyo.
Great Gate welcome you
The big water wheel welcome you, and going up the stair after you pass the gate, lets enter the restaurant. At the reception desk, the staff escorts you to the private room. You need to book before you arrive because here is very popular.

Atmosphere of old days Japan
This location is the place for sending smoke signals between Kai (Yamanashi) and Edo (Tokyo) and the important logistic intersection. We call "Koshu-Nakamichi", the road from Itsukaichi-city to Asama ridge, which is used for  the back street of Koshu-Kaido (Koshu main road). Kurochaya place is told as the old checking spot to monitor pedestrians in "Koshu-Nakamichi".  Kurochaya biliding itself has existed since Taisho period.
Dine with luxurious Japanese Omotenashi sprits
The dining room looks below pictures. You can eat on the balcony. Personally, I like inside because I don't like bug. Prepare a bug spray.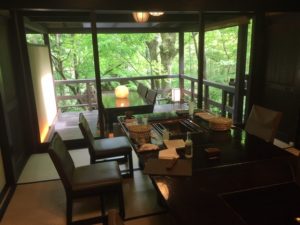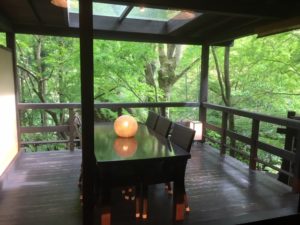 The view from balcony looks below pictures. Enjoy full of nature and birds singing.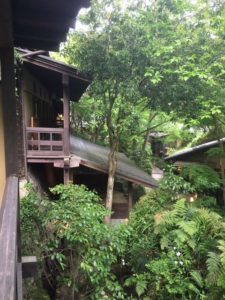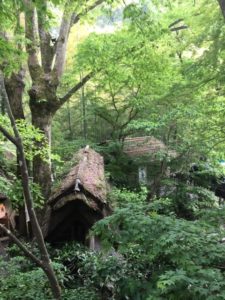 Full‐course meal including local ingredients
①First dish is Magatama-Tofu. You enjoy cashew nuts flavor and sweet creamy texture. You can buy this as a souvenir.  ②Second dish is Zensai, combo with bamboo basket. boiled greens in  sesame source, Nimono, Sasa-fu, Loutus root, Broad bean, bamboo shoot, and petasites. All ingredients come from local farms. This dish is colorful and beautiful. ③Third dish is  Wanmono, Fungi and bamboo shoot soup. ④Fourth dish is River fish Sashimi coming from local, Masu (fish name) and Connuaku, etc. ⑤Fifth dish is Yakimono, including vegetable, river fish(Yamame or Ayu), and Akikawa-beef.  
①Magatama-tofu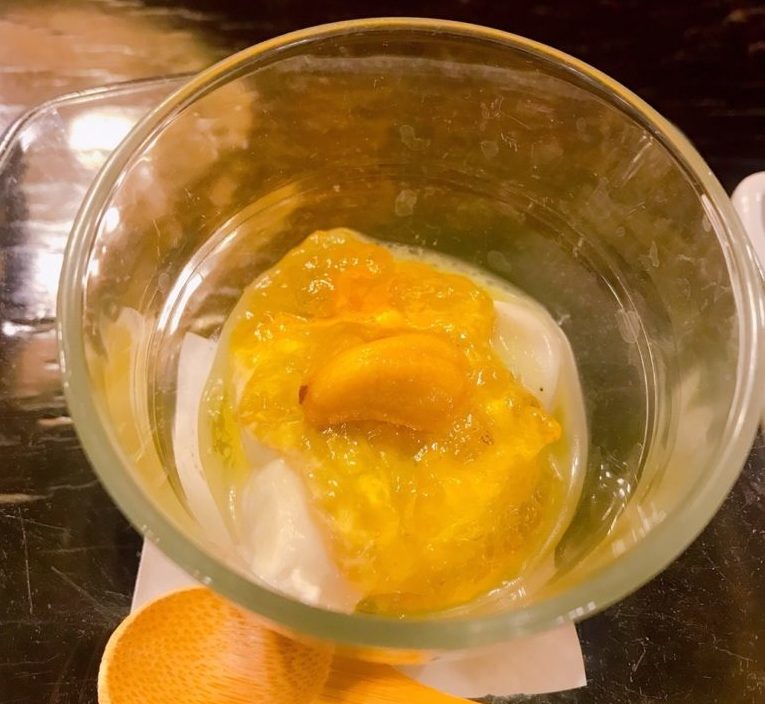 ②Zensai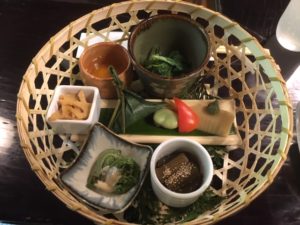 ③Wanmono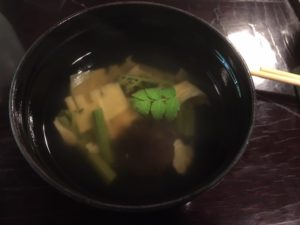 ④Sashimi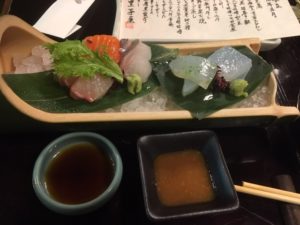 ⑤Yakimono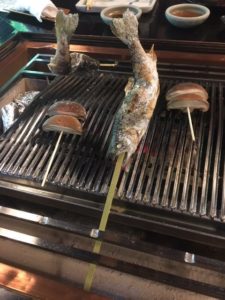 ⑤Local Beef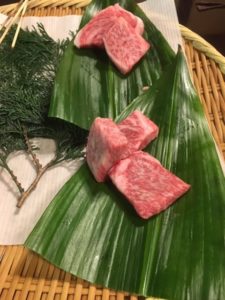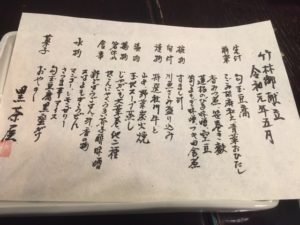 ⑥Sixth dish is steamed egg hotchpotch.
⑦Seventh dish is Tempura with tea salt. Potato and Lotus root.
⑧Eighth dish is Hashiyasume. This word means refreshing mouth and changing mind for additional dishes. This day it was Konnyaku and Miyoga with Vinegar miso.
⑨Rice or Udon. You can choose either. Rice is Japanese cooked burdock rice. Udon is mugwort Udon  with Bamboo container shown in the picture.。
⑩Dessert: lemon jelly, ice, and fruit 
That is all.
After eating walk around the restaurant 
⑦Tempura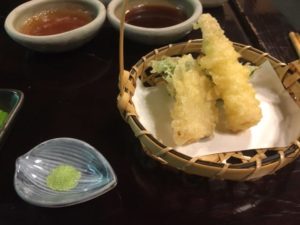 ⑧Hashiyasume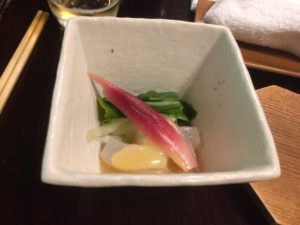 ⑨Rice or Udon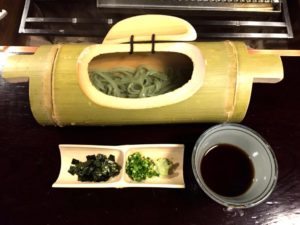 After eating walk around the restaurant 
It is very comfortable to take a walk around the restaurant with bamboo forest and Akikawa river murmuring sound. Near this place, there are hot springs, such as TsuruTruru Yu and Seon no Yu. You can enjoy Tokyo countryside by train and taxi. From Tokyo Station, it takes approximately 1.5 hour.